Alena and her son are one of the 8 families that arrived in Sjellebro in the beginning of March. When Ulrik picked them up at the border between Ukraine and Poland, he helped them to carry their luggage. They had limited belongings with them, but one thing Alena brought with her – a guitar. Alena explained: "If I die, I'll die with music".
Alena has journaled her journey since the war hit her nation. You can click on the link to read the whole story. (ed.)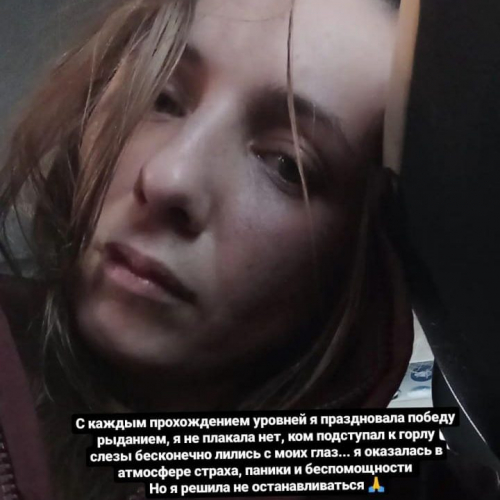 On the morning of February 24 at 5:30 am, my ex-husband transferred money to me, and another explosion thundered somewhere far away … I didn't even understand what was happening, no one writes in the work chat this early … But there was a message from my boss: "We are not going to work today, collect the necessary things and documents and be ready to go down to the shelter …" My worrying grew with every second. I had not yet read the news. An explosion thundered somewhere near the airport again. I called my ex-husband and he told me that the war had begun. I could not believe it. How is the war? Why war? For what?
On February 24, the whole city of Kharkov woke up at 5 am. I decided to stay at home, because I didn't fully believe that the Russian troops would start shooting at residential buildings, but already at 9 in the morning my sister, who lived on Saltovka, called me saying that this area was bombed from the very first day. She asked me if she could come to me, "of course, you don't even need to ask," I answered. Immediately, my ex-husband offered us his private house, where there is a cellar…
At first we stayed in the apartment for a couple of hours, and then the siren went off and we heard shelling from the "Grad", so we got scared, quickly packed, took the children and went to a private house. In the morning I went to work to help, because people could not get to work, and when I returned to the house, my ex-husband, the father of my son, went to war. And so I, my sister and two small children and 3 cats stayed in a private house with a cellar.
The siren went off again. We went down to the cellar, the shelling began … We sat in the cellar for 3 hours, got really cold, then we decided that we needed to bring heaters, blankets, food, and water in there. It got silent, so we decided to get to the house. The next day and two more we were running back and forth to the cellar and to the house.
The children got cold and so did we as well. We read in the news that it is dangerous to hide in the cellar. When we were going back to the house from the cellar, someone knocked on the gate, I automatically answered: "Who is there?" – no one answered… I got scared and called an imaginary husband so that he supposedly would help me. From that moment on, my sister and I walked around with pepper spray. 
We didn't go for groceries, we collected supplies from 3 houses and decided to save money and food, because it was dangerous to go grocery shopping, there were queues to shops and humanitarian centers, we were scared to get under fire while standing for food. The curfew is from 6:00 to 16:00, but I didn't sleep for several nights. We walked and listened to the silence. If the door creaked or someone slammed the door, we were immediately frightened, as if something had arrived. The whole village turned off the light and after dark, there was such silence, even the dogs did not bark, and in the morning the village came to life again.
Alena's son makes a birthday wish just 10 days before the war starts
This war will not end quickly.  I understood that they were shooting at residential buildings, and that we were in great danger. We didn't go for food because the line started on the street and we had to stand for several hours, so my sister and I economically consumed food supplies. One morning my sister was going to go to stand in line for sausages, I didn't let her go, and then evening came and shelling started again, they started shooting from the sky, it was a terrible night. We were in touch with relatives and friends, we wanted to hear only one answer: – "Alive". In silence, we were afraid that there were preparations underway for a total shelling, and when they were shooting, we prayed that no one would be hurt, but in the morning we already knew which houses were damaged. They were shooting during the day and night, but at night it was especially scary. I was standing in the corridor when I suddenly heard a plane over our house. We were in the house. I ran to the little one's bed and covered him with myself, my whole body clenched in fear. I closed my eyes in anticipation of an airstrike. But the plane flew on, only the beating of my heart was heard in the house. In the morning I decided to leave.
Tomorrow came. At 6 in the morning, I tearfully asked my sister to leave at least somewhere, but she answered me, no. I frantically began to look for gasoline. I called my friends, they said: "you can refuel at a gas station. But you can stand in line for about 3-4 hours". I decided that if I don't find gas today, I'll go to the train station and go anywhere.
The next night was worse than the previous one. They were shooting all night long. I couldn't get to my husband, he was at war. I couldn't get through to him for a long time. I realized he was gone. I started calling his friends at 3 am to find out at least something, then nothing turned out. While he was in touch, I had at least some hope that he would help us, rake from the rubble, I had a hope that everything would still be fine, that it would all end.
I was scared. I wanted to take my son and leave. I didn't want to explain to him why we were sitting in the basement, how much longer we would be sitting there, when he could see his dad, why we were attacked, and when it was all over…
The next day came, the day when I mentally lost my husband, the father of my child and all hope of salvation. I could not find gasoline, so I decided to go to the train station today. I talked again with my sister, and she agreed to go, only I had to pick up my mother from Alekseevka in a district in Kharkov far away from us. We had to drive through the whole city.
We agreed that I would go. I went out to the car, started it on gas in the cold. While the car was warming up, I went to say goodbye to my son and sister, because right now I risked my life. I gave Katya all the money and asked to take care of my son if all of a sudden I'm gone. I hugged my son and drove off. There was no music playing in the car. I prayed and listened to street sounds, I drove around the city and my discomposure grew with every kilometer. I continued to pray and cry. I saw a girl walking along the road just dangling her legs. It looked like she was walking and she didn't care anymore, probably today they got into her house. I stopped, asked if she needed any help, she just went on. Then a woman stopped me and begged to take her to the train station. It was not on my way and I understood that by taking her to the train station now, I risk not seeing my son or parents anymore. I felt sorry, but I had to go on my way. I decided not to stop anymore. With pain in my heart for people and for this whole situation, I continued to pray and kept driving. There were only a few cars on the road. Traffic lights didn't work, some kind of explosion and panic began, and sometimes accidents happened because of that. People didn't have time to figure things out, they just say everything is ok and go on. Then I saw a lot of cars along the road, kilometer-long queues at grocery stores, at gas stations, in a pharmacy. This is a disaster because a rocket can fly at this very moment.  Along the way I saw how the store that was shelled yesterday  was robbed by marauders, and I saw how the police stopped them.
Every second my heart was filled with fear, pain, horror from everything that was happening. I saw the city center covered in fragments and debris, broken cars in the middle of the road. I turned and saw a checkpoint, soldiers were standing there. I stopped and burst into tears. Because I understood these guys here could die at any minute. They are here like a target, but they have to be there as they are guarding this area. I thought I saw my husband, but it turned out it wasn't him. One soldier came up to me and said that everything would be fine so that I wouldn't worry. Of course I was even more worried because I saw the apocalypse on the way to my parents. I had already turned to my mother's house, they were already waiting for me with dad and 2 young guys on the street.
I ran out of the car, hugged my parents like never before, it worked out to get there alive.
We quickly got into the car and drove back the same route. I felt calmer. We talked all the way and did not notice how we got home. I hugged my son and sister again. And I already knew for sure I can't stay there, it's very dangerous!
Mom cooked food. We talked and talked and talked, then we made beds for all the people. Today there were already 8 of us in the house. It was the best night in all 8 days of the war
Chaos at the trains station in Kharkow
We got up at 5 am and went to the station with my sister and 2 children. It was a whole process to get on the train.
First it was necessary to get to the building of the station itself, then to go through one door that led to the platform to the train, then to stand in a queue before getting into the car of the train.
It was packed with people at the station. Screams and tantrums, women were feeding newborns right in this queue. As soon as that one door opened, people began to break down and crush each other. To stop this madness, the soldiers even shot into the air, demanding us to remain calm.
We stood there from the early morning. My sister could not stand it and went back home, my son and I stayed.
At 21:15 we went out the door to the platform, but were still waiting for the train. It started to rain, and we stood for another 3 hours. At 0:16 am we got on the train and went somewhere. That was a sitting train. Where there were 3 seats, 5 people were sitting there holding children in their arms. People just stood all the way to Lviv.
We didn't drink tea or eat for a long time. Someone shared  a sandwich with me that volunteers gave at the station. I gave it to my son, and promised that when we get there we'll rest somewhere and eat.
But in Lviv we were immediately put on a bus and we went to the border of Poland and there we stood the whole evening, night and day. For me it was even worse than the war. I wanted to return home, but I was already too far. In line at the border too there was a crush. It was cold. If you went to the toilet, when you return you should get back to the end of the line. We didn't drink tea and didn't eat for a day. There was a volunteer tent there, but there was a big queue. There was also a gas station. We went with my son to eat and drink tea there, but there was no tea anymore, so I bought him coffee with milk.
In the evening of the next day we ended up in a camp in Poland.
There were a lot of people, men and women and children. It was a dangerous place. It looked like some kind of market. My son and I went to the doctor, as we got sick while we were standing for almost a day at the Polish border and they helped us. Then I met Daniela. She is a volunteer in this camp. I told her my story, and she helped us. She said we could stay in the camp, have a rest and tomorrow we would decide what to do.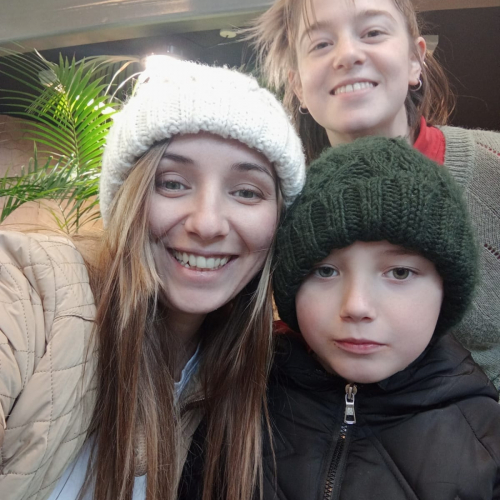 From the left: Alena, Natasha from Norway & Alena's son Sergei
I didn't have a voice at all. I could only speak in a whisper. We were fed, given some clothes and we went to bed. From fatigue and stress I hugged the little one and fell asleep. Then I woke up and found that my son was not around. I can't tell you what I felt during these 2 minutes of searching. My son got up and went to bed next to another woman. He was calm, but he began to wake up at night and just sit or walk. I was very worried, but I thought it would pass. Until the morning I did not let him go from me at all. Then other children came and they began to play and by lunchtime my son looked much better. After lunch, we met with Daniela. She said that we could go to Denmark to her friends, and we said okay.
In the evening at about 9 o'clock a van came for us and took us to a big bus. We got on the bus and drove for 22 hours. We drove, and I didn't know where. But we arrived at a very good place. We were welcome there, we saw prepared rooms with flowers and sweets. We arrived at night, but we were already safe. I felt that we were in a safe place. And finally I took off my dirty clothes and went to take a shower. I cried because I could take a shower. The last time I took a shower was when I was still at home in Kharkov. Then we went to bed, and in the morning we met these wonderful people who gave us a roof over our heads, clothes and food. Laptops were brought to the children and bicycles were given to everyone. I admired the mercy of these people because they truly treated our misfortune with love.